Hiah Modulus Construction Joint Sealant Lejell 220
Product Detail
Technical Data
Construction sealant
OUR ADVANTAGES
Operation
Lejell-220 is one-component, moisture curable polyurethane sealant. Good sealing and flexible performance. No corrosion and pollution to base materials and environment-friendly.Pricking resistance, easy for repairing. Good bonding with cement and stone.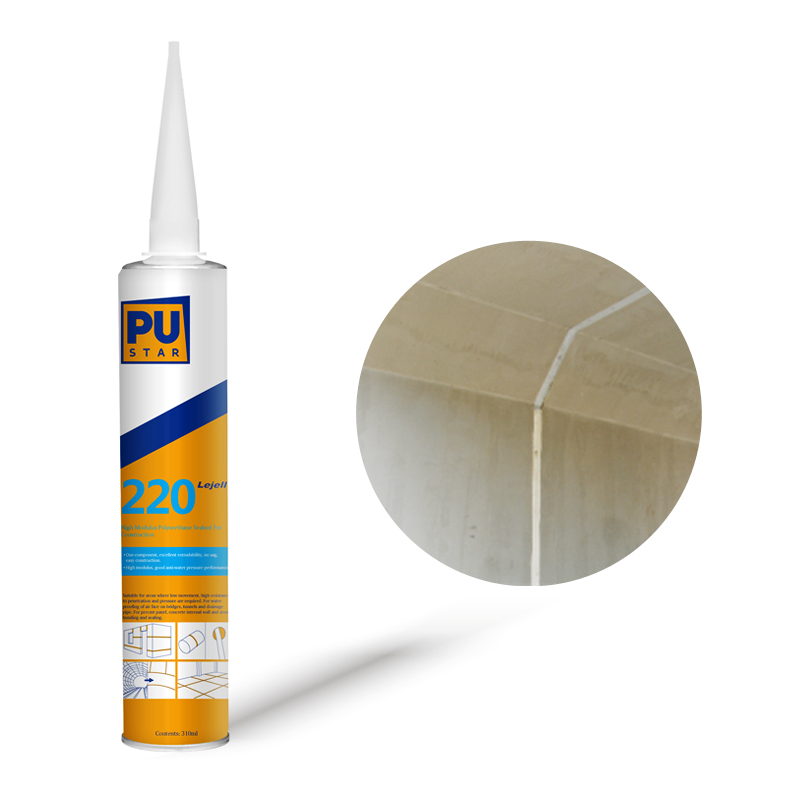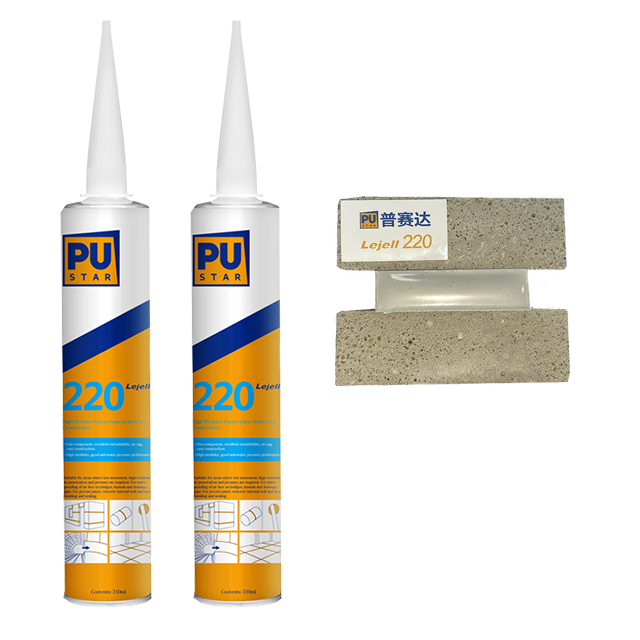 High Modulus Construction Joint Sealant Lejell 220 is a type of sealant commonly used in construction projects. It is a high-performance product designed specifically for sealing and filling joints in various applications such as concrete, masonry, and metal.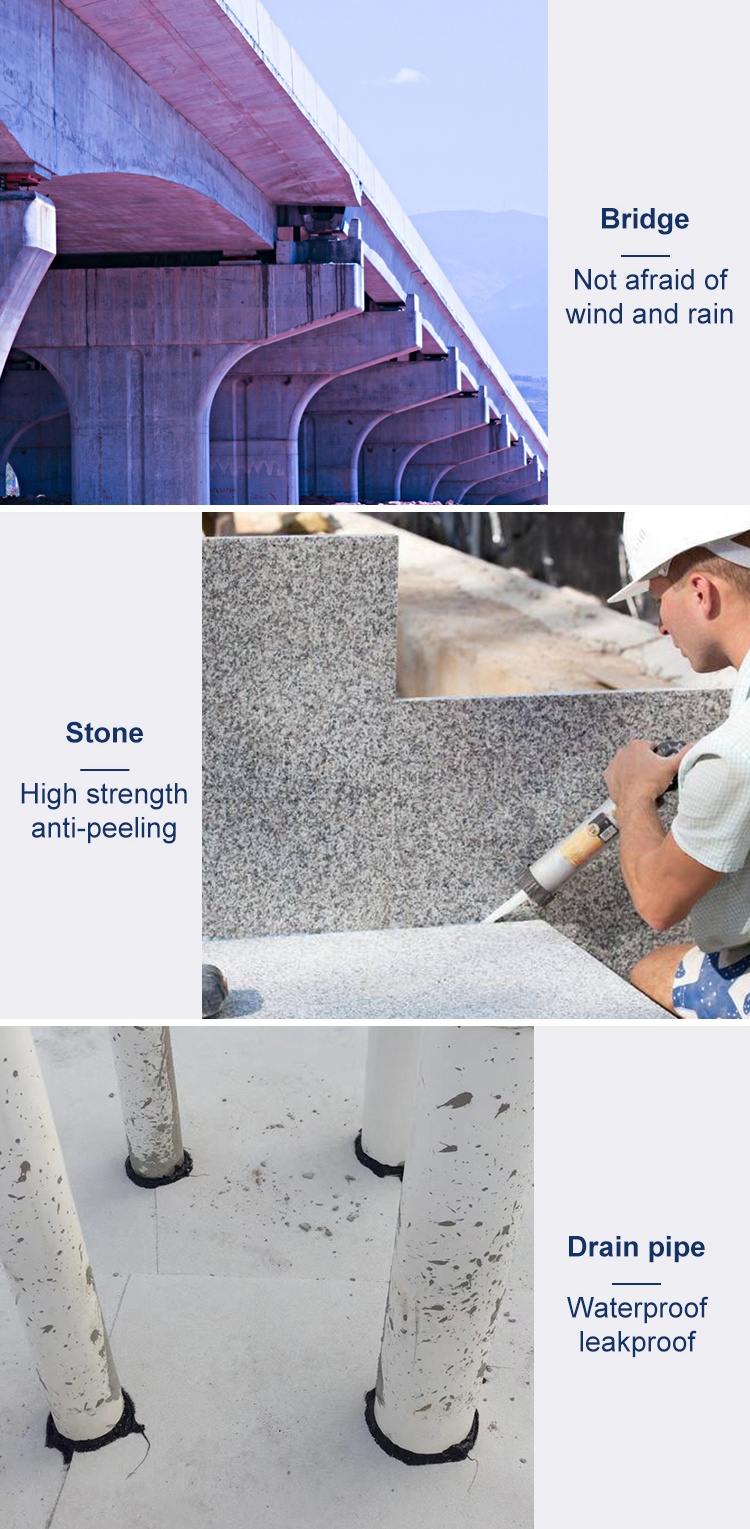 Suitable for areas where low movement, high resistance to penetration and pressure are required.
Suitable for waterproof sealing of the back water surface of bridges and tunnels, drainage pipes and other waterproof structures,
For precast panel, concrete internal wall and stone bonding and sealing.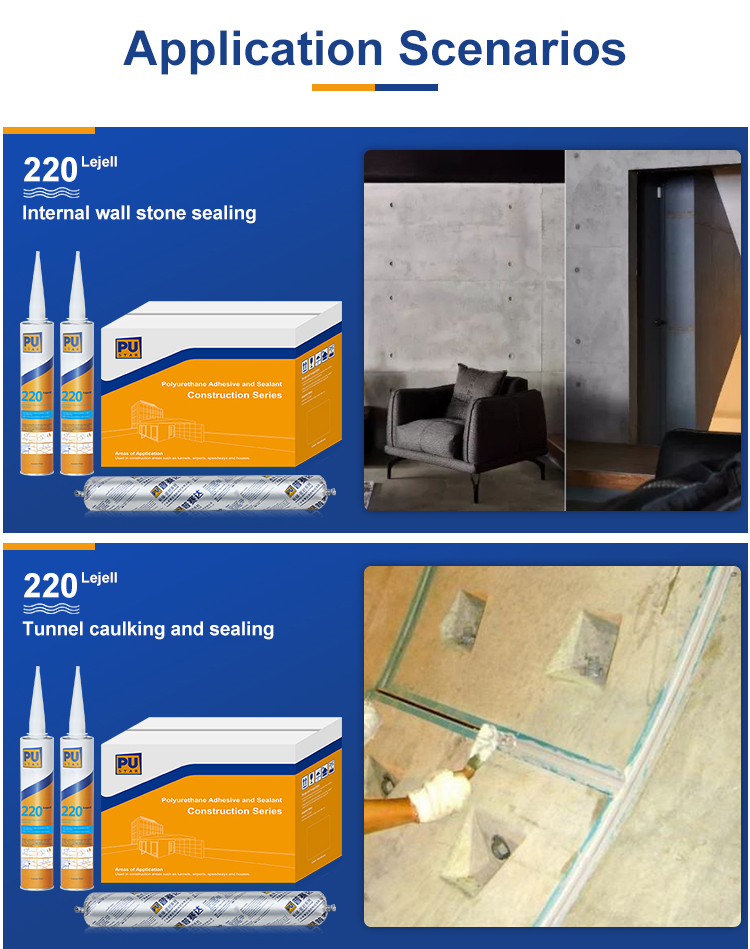 •Cartridge:     310ml
•Sausage:    400ml / 600ml
•Drum:   240KGS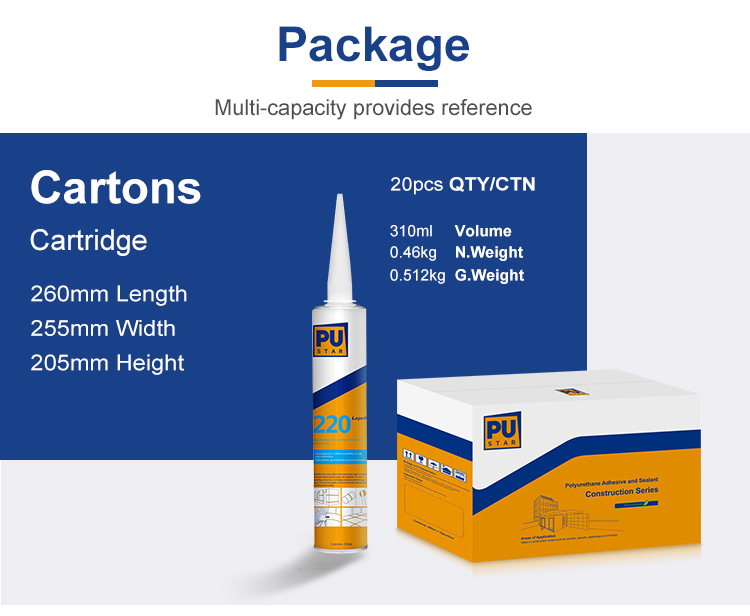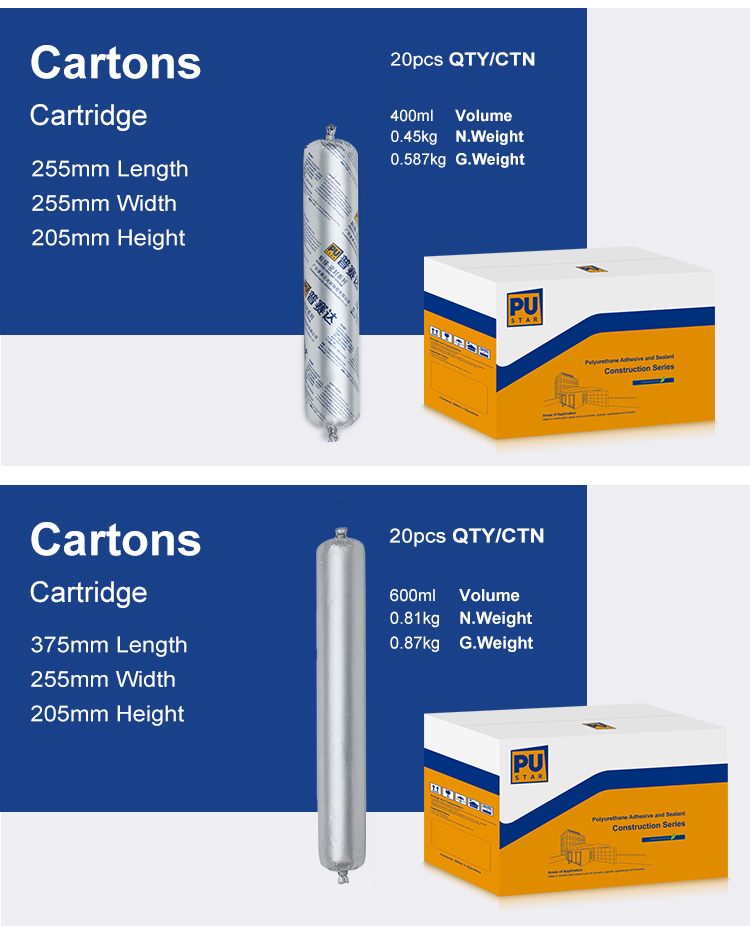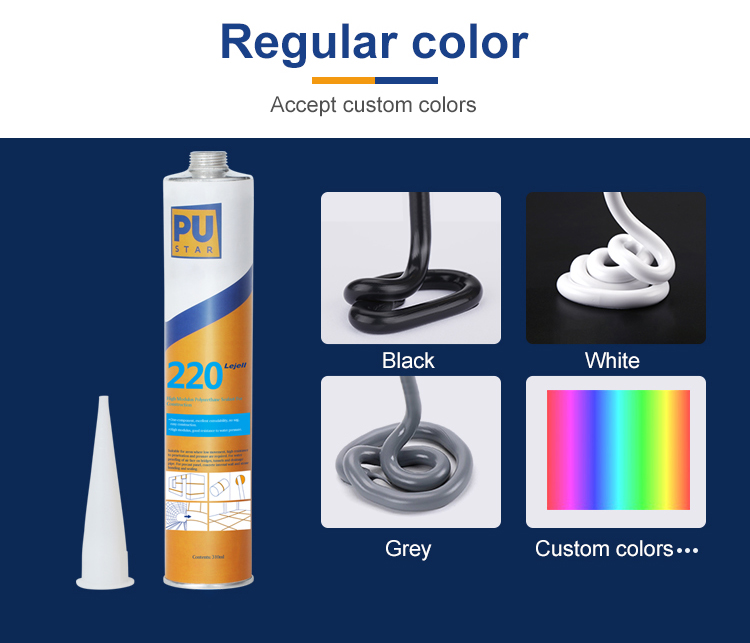 ---
---
Lejell220
Items
Standard
Typical Value
Appearance
Black, white, grey
homogenous paste
/
Density
GB/T   13477.2
1.45±0.1
1.45
Extrudability ml/min
GB/T  13477.4
≥80
440
Sagging   properties(mm)
GB/T  13477.6
≤3
0
Tack free time②(h)
GB/T  13477.5
≤24
1
 Curing  speed   (mm/d)
HG/T4363
≥2.0
2.6
Volatile   contents(%)
GB/T   2793
≤7
2
Shore  A-hardness
GB/T  531.1
40~50
46
Tensile strength MPa
GB/T  528
≥1.5
2.5
Elongation at break %
GB/T  528
≥400
550
Tensile modulus Mpa
GB/T  13477.8
≤0.4(23℃)
0.75
Tensile properties at maintained extension
GB/T  13477.10
No failure
No failure
Adhesion/cohesion properties at maintained
extension after water immersion
GB/T  13477.11
No failure
No failure
Adhesion/cohesion properties
at variable temperature
GB/T  13477.13
No failure
No failure
Elastic recovery rate%
GB/T  13477.17
≥70
80
Operating      temperature(℃)
-40~90
① All data above were tested under standardized condition at 23±2°C, 50±5%RH.
② Value of tack free time would be affected by change of environmental temperature and humidity.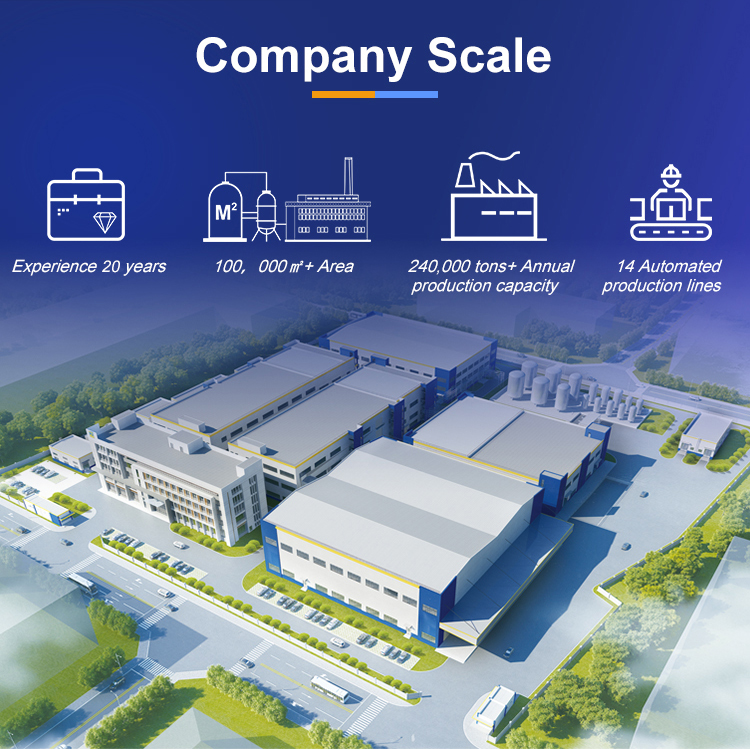 Guangdong Pustar Adhesives & Sealants Co., Ltd. is a professional manufacturer of polyurethane sealant and adhesive in China. The company integrates scientific research, production and sales. It not only has its own R&D technology center, but also cooperates with many universities to build a research and development application system.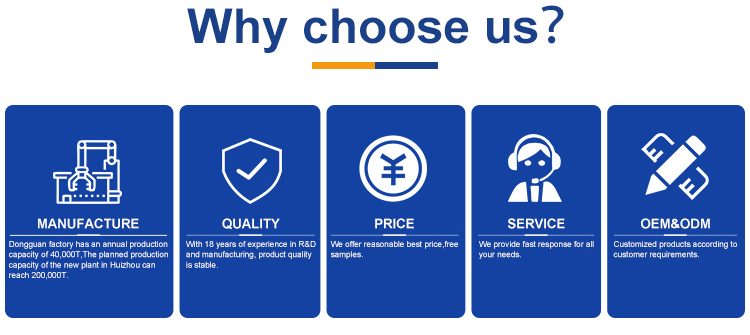 The self-owned brand "PUSTAR" polyurethane sealant has been highly praised by customers for its stable and excellent quality. In the second half of 2006, in response to changes in market demand, the company expanded the production line in Qingxi, Dongguan, and the annual production scale has reached more than 10,000 tons.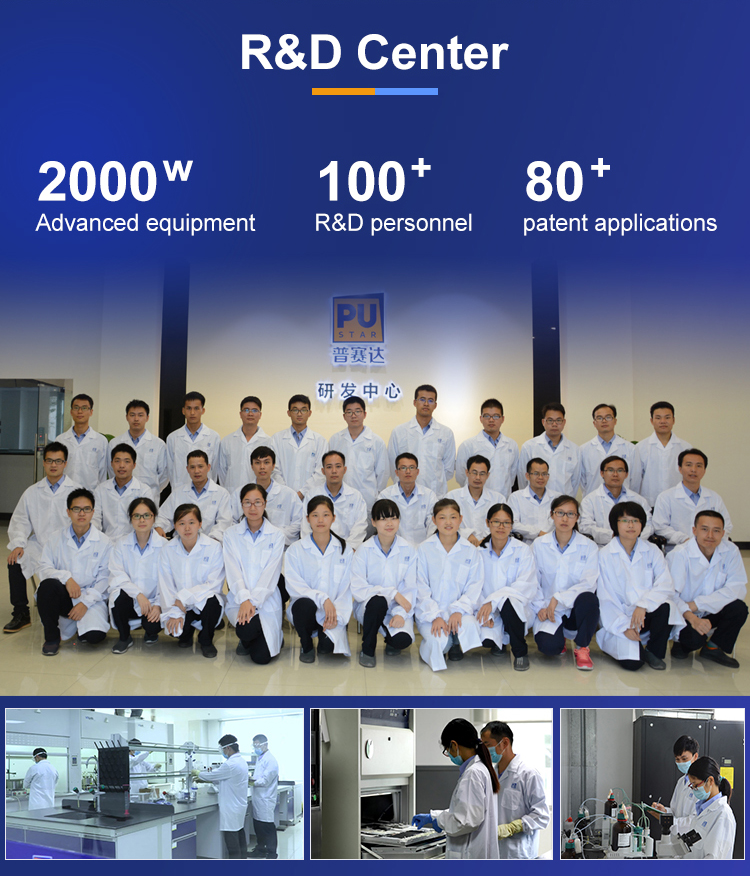 For a long time, there has been an irreconcilable contradiction between technical research and industrial production of polyurethane sealing materials, which has restricted the development of the industry. Even in the world, only a few companies can achieve large-scale production, but because of their super strong Adhesive and sealing performance, its market influence is gradually expanding, and the development of polyurethane sealant and adhesives surpassing traditional silicone sealants is the general trend.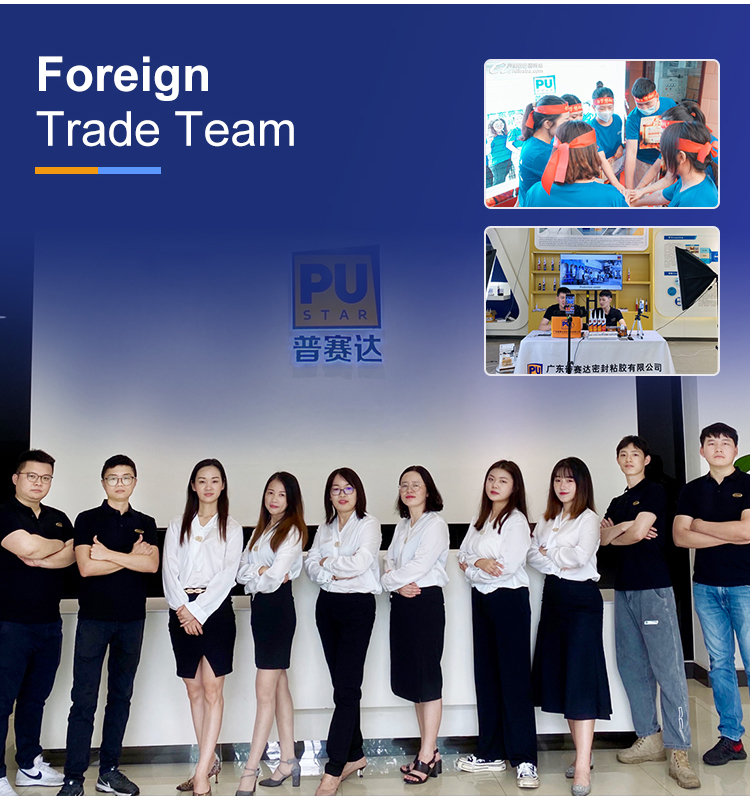 Following this trend, Pustar Company has pioneered the "anti-experiment" manufacturing method in the long-term research and development practice, opened up a new road to large-scale production, cooperated with a professional marketing team, and has spread all over the country and exported to the United States, Russia and Canada. And Europe, the application field is popular in automobile manufacturing, construction and industry. 
Hose sealant use steps
Expansion joint sizing process steps
Prepare construction tools: special glue gun ruler fine paper gloves spatula knife Clear glue utility knife brush rubber tip scissors liner
Clean the sticky base surface
Lay the padding material (polyethylene foam strip) to ensure that the depth of the padding is about 1 cm from the wall
Pasted paper to prevent sealant contamination of non-construction parts
Cut the nozzle crosswise with a knife
Cut the sealant opening
Into the glue nozzle and into the glue gun
The sealant is uniformly and continuously extruded from the nozzle of the glue gun. The glue gun should move evenly and slowly to ensure that the adhesive base is fully in contact with the sealant and prevent bubbles or holes from moving too fast
Apply clear glue to the scraper (easy to clean later) and modify the surface with the scraper before dry use
Tear off the paper
Hard tube sealant use steps
Poke the sealing bottle and cut the nozzle with proper diameter
Open the bottom of the sealant like a can
Screw the glue nozzle into the glue gun
Write your message here and send it to us